Species Conservation | Northern Great Plains
© Conservation  Media / WWF-US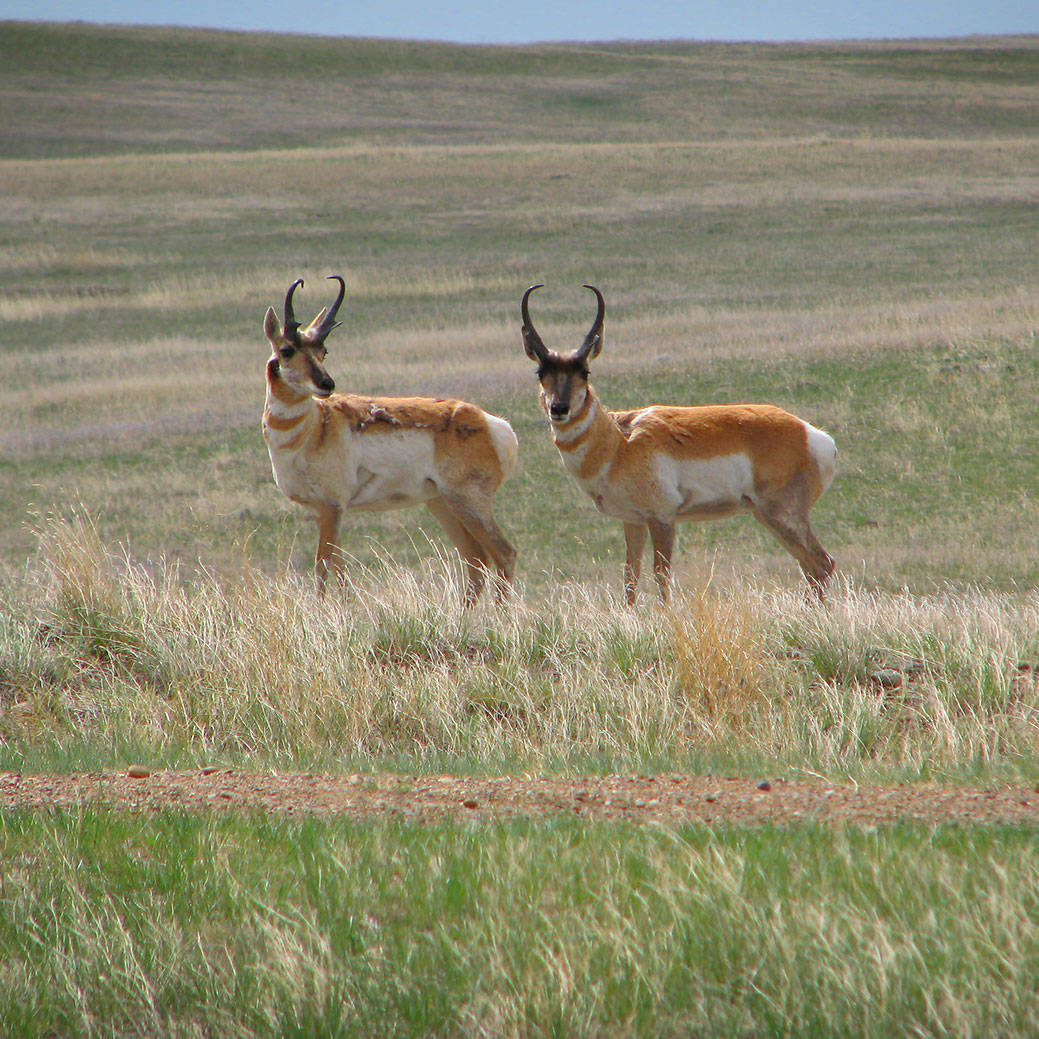 World Wildlife Fund – Northern Great Plains
The Northern Great Plains is one of only four remaining temperate grasslands in the world. This mixed-grass prairie comprises 286,000 square miles, spanning five US states and two Canadian provinces. Two hundred years ago, bison, pronghorn, elk, black-footed ferrets, prairie dogs, swift fox, and numerous bird species thrived across the plains.  On April 22, 1805, near today's Williston, North Dakota, Merriweather Lewis wrote this journal entry following a morning walk:
"I asscended to the top of the cutt bluff this morning, from whence I had a most delightfull view of the country, the whole of which except the vally formed by the Missouri is void of timber or underbrush, exposing to the first glance of the spectator immence herds of Buffaloe, Elk, deer, Antelopes feeding in one common and boundless pasture."
Today, many grassland species are threatened by habitat fragmentation, resource extraction, and plow-up for crop agriculture. In 2014, the Olseth Family Foundation began supporting World Wildlife Fund's (WWF) efforts to conserve and restore the region's natural legacy and native wildlife. At the core of our partnership is WWF's commitment to working with Native nations, ranchers, and public agencies to achieve species restoration and biome sustainability goals.
The Olseth Family Foundation has allocated funding to WWF among a wide variety of initiatives throughout our tenure from sustainable ranching initiatives, building public awareness of grassland carbon sequestration, and annual plow-up reports.  Highlighted below are several programs which have positively impacted bison, black-footed ferret, and grassland bird populations.
Bison
Thirty to sixty million Bison once roamed the plains of North America. Their numbers plummeted to near extinction in the late nineteenth century during westward expansion when bison were killed to eradicate the Native people who depended on them for food, shelter, and culture. Today, bison are returning to the Great Plains and many conservation herds can be found across the region.
The Olseth Family Foundation has supported several of WWF's bison restoration projects over the past years. The goal is to secure a minimum of five conservation herds with at least 1000 animals each by 2025.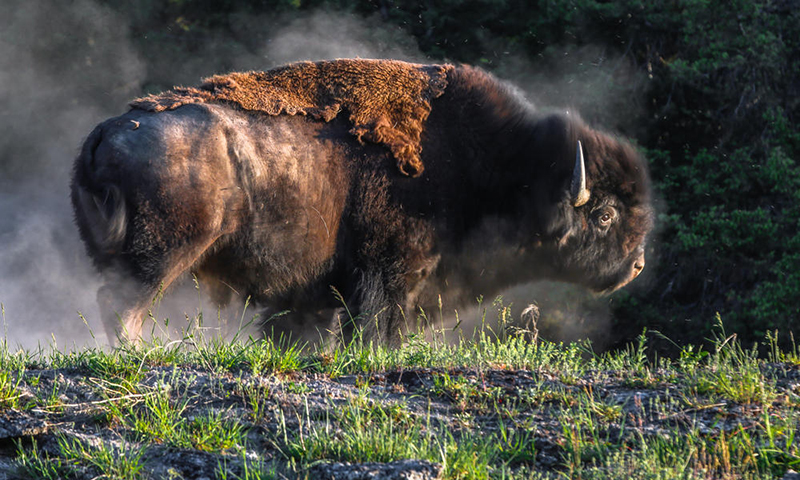 Photo Credit: ©Thomas Szajner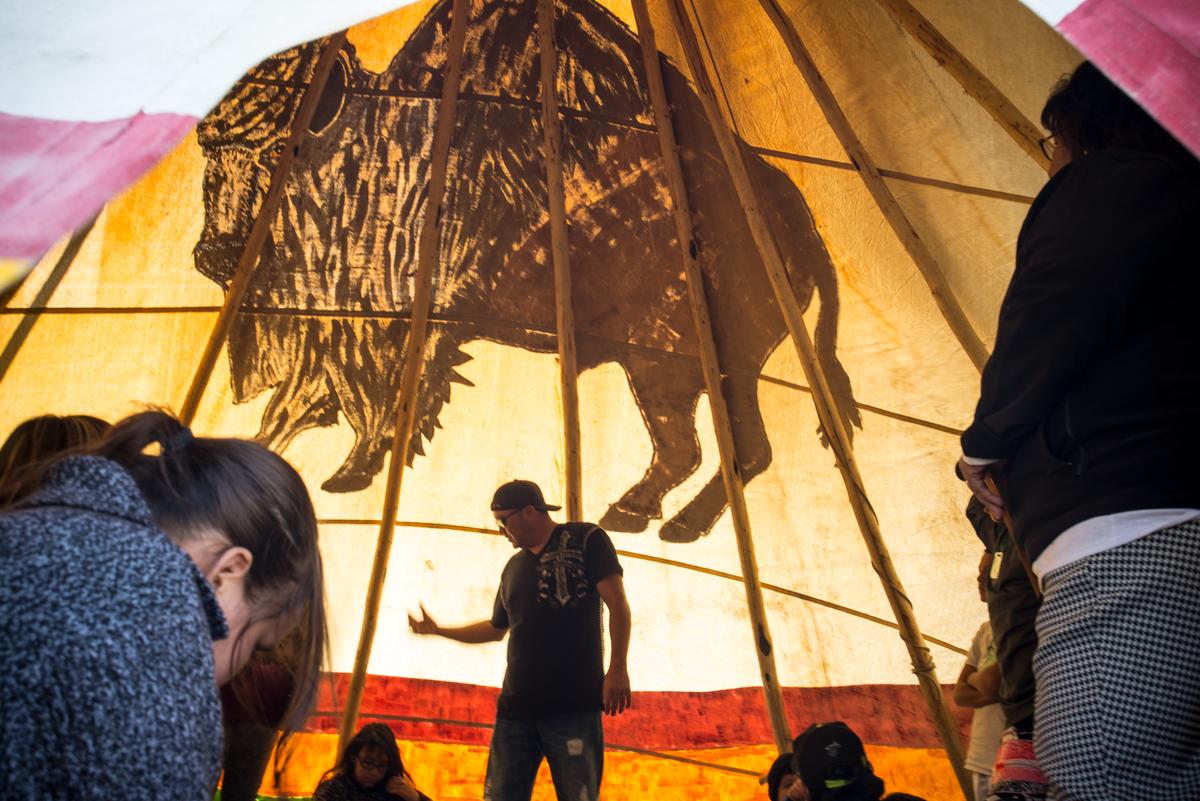 Photo Credit: ©WWF-US/Clay Bolt
Leaders from the Fort Peck Assiniboine and Sioux Tribes and WWF established the Pté (Buffalo) group with an objective of revitalizing Native health and well-being by reconnecting residents of Native communities with the buffalo.  In September 2015, the Pté Group hosted leaders from 14 Native nations at the first Buffalo People's Summit. An alliance between Native nations from the US and Canada was established with a long-term mission to restore buffalo herds throughout Native owned and managed lands. The group also brought 1,000 tribal school children out to Fort Peck buffalo pasture to learn from their elders.
In 2019, following a 132-year absence, a herd of bison were introduced to the North Unit of Badlands National Park, which is located on the traditional lands of the Oglala Sioux. It was a complex project which involved the Oglala Sioux Nation, the National Park Service, several conservation groups including WWF, and many individuals who provided time and/or money to ensure the bison continues to roam the grasslands of North America. It is anticipated that the herd will increase to 1000 animals over the next few years.
In 2020, with WWF's assistance, The Sicangu Lakota (Rosebud Reservation) added 100 bison to the Wolakota Buffalo Range, a pristine grassland along the South Dakota/Nebraska border. After several additional transfers of bison, the heard has grown to nearly 1,000 animals. Over the next 5 years, the herd will be expanded to 1500 animals. This number will be achieved through breeding and transfer of excess animals from other North American herds. WWF and partners will support annual monitoring of the ecological health of the Wolakota Buffalo Range. The Rosebud Economic Development Corporation (REDCO) will engage community members through a wide variety of bison related activities, many of which will be related to increasing food sovereignty at Rosebud. Like the 2019 Badlands release, the Wolakota Buffalo Range had been devoid of bison for more than 130 years.

Photo Credit: ©Thomas Szajner
Black-Footed Ferrets
Black-footed ferrets, once believed to be extinct, are one of North America's most endangered mammals with approximately 300 living in the wild. Habitat loss, disease, and threats to prairie dogs—the ferret's primary food source—threaten its survival. WWF is playing an important role in maintaining existing ferret sites, establishing new sites, and researching ways of combating invasive, infectious, and often fatal diseases.
In Spring 2015, Fort Belknap celebrated the first and second generation kits born to individuals reintroduced to the wild in 2013 and 2014. Later that fall, The Crow Reservation became the tenth ferret reintroduction site.
In 2016, WWF, Aaniiih Nakoda College, and Fort Peck joined forces by creating a Tribal Wildlife Internship Program. Two Fort Peck youth were mentored by WWF biologists as they conducted black-footed ferret and prairie dog work. In that same year, a scaling up of a Sylvatic Plague Vaccine began.
Black-footed ferrets continue to be limited to small pockets of habitat..  An exciting recent development occurred when WWF received its first patent for a drone which can efficiently deliver sylvatic plague vaccine via food pellets over large acreages of prairie dog towns. This innovation will aid WWF in attaining a 2025 objective of four self-sustaining ferret populations living in the wilds of the Northern Great Plains.
It is now scientifically shown that for successful recovery of ferrets to occur there must be ample habitat and prey, ongoing attention to sylvatic plague, consistent animal monitoring, training for biologists, community support, and adequate funding.
Nine Black-Footed Ferret Litters Born at Fort Belknap Indian Community in Montana
We saw a new record for wild-born kits for this important population. Fort Belknap is now home to 37 of these endangered mammals, including 19 kits and 18 breeding adults (the site goal is a minimum of 30 adults). With only 340 ferrets in the wild today, the commitment and hard work of the Fort Belknap Fish and Wildlife Department has led to the establishment of this valuable population. Biologists estimate that there should be 3,000 adult ferrets in the wild to successfully recover the species.
WWF and the Northern Cheyenne Natural Resources Department Launch Community-Based Conservation Initiative
Located in Montana, the Northern Cheyenne Natural Resources Department is working with WWF and the local community to co-develop a black-footed ferret conservation plan that lays out goals and strategies, addresses threats, and develops opportunities for future reintroduction efforts. The plan will also incorporate the cultural significance of the black-footed ferret and their prairie dog prey. Two enrolled citizens of the Northern Cheyenne nation have joined the project as AmeriCorps VISTA members through summer 2022 to conduct community outreach and ensure we incorporate and amplify more voices, building a foundation for a successful ferret recovery program that lasts for years to come.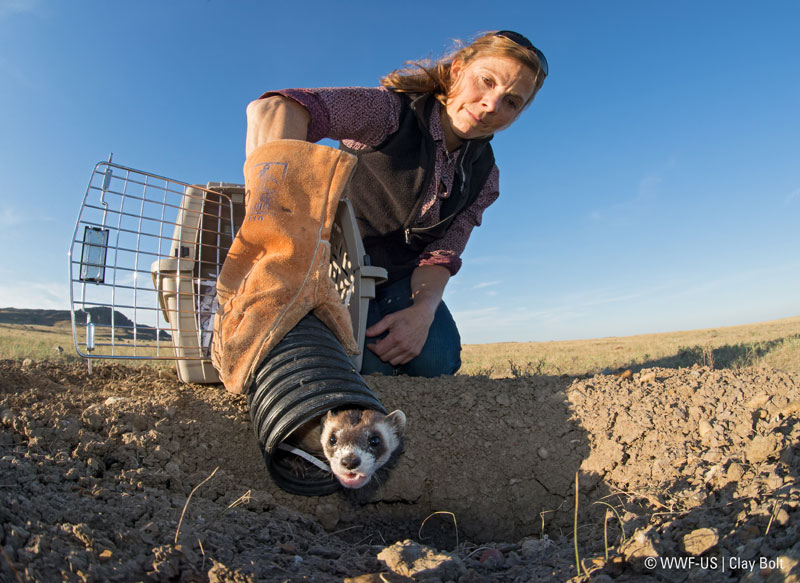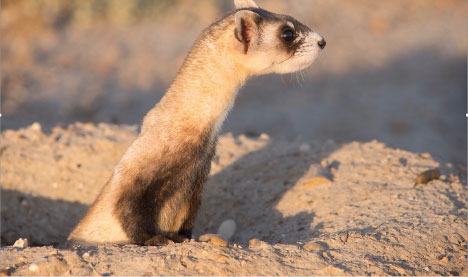 Photo Credit: ©WWF-US/Clay Bolt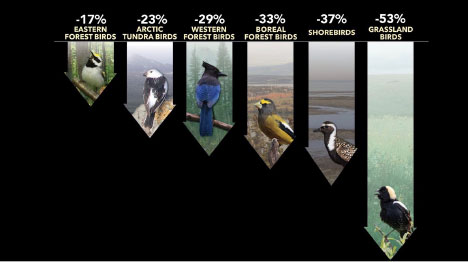 Photo Credit: ©Bird Conservancy of the Rockies
Photos Credit: ©Shutterstock
Grassland Birds
Bird populations are declining globally, but grassland bird numbers have decreased by more than half in the past five decades. This is a larger decrease than any other subset of birds. 
 Much of the decline is directly related to habitat degradation and loss. In an effort to learn more about grassland bird populations WWF has conducted an annual bird surveys on working lands for nearly a decade. The survey is completed in cooperation with ranchers, Native communities, and state and federal agencies. With this data, they have successfully advocated for Farm Bill interventions, including wetland and grassland easements, forestry titles, and the Conservation Reserve Program to include grassland acreage. WWF's involvement with the local communities provides hope for the many unique bird species, the deep-rooted grassland flora, myriad of pollinators, and the various fauna of the Northern Great Plains.
For more information about the World Wildlife Fund's efforts on the Northern Great Plains, click here >